Episode 2 - "THESE PEOPLE ARE RACIST!!!"
INTRO:

Huora: Hayden Moss...Jaclyn Schultz...Kelley Wentworth...Natalie Anderson...Rebecca Boreman...Rob Mariano
Narttu: Aubry Bracco...Cirie Fields...Crystal Cox...Gary Stritesky...Jonathan Penner...Todd Herzog
Vittu: Brenda Lowe...Dan Foley...Matt Quinlan...Robb Zbacnik...Spencer Bledsoe
*we flash back to tribal council briefly when NaOnka was leaving*
Robb:
Bye trash
*we see Dan shaking his head and flash forward to the five remaining members at camp*
Dan (confessional):
Forgetting for second that I got a vote, tribal council was awesome. It all went according to plan. NaOnka is ridin' that midnight train back to whereever she was from. But Robb's dumbass behaviour made another appearance. Was NaOnka a quitter? Yeah. Was she useless? Absolutely. But trash? That's not cool.
*Dan stares holes into Robb, who is oblivious*
Dan (confessional):
The excitement of tribal is wearin' off and now it's startin' to set in. I received a vote. If NaOnka voted me fine more power to her cuz she's gone. But if she voted Matt then someone else threw their vote my way. Spence ignorin' my statement that I'm a vote if he needs it bothers me lots. I'm gettin' the sense that if we don't win the next immunity challenge I'm Vittued.
*the camera cuts to the remaining castaways entering the challenge and seeing NaOnka had been voted out. Rebecca wipes a tear away and Crystal looks angry*
Crystal (confessional):
SADLY IT APPEARS I LOST A BLACK GIRL.....THESE PEOPLE ARE RACIST!!! I WILL NOT BE STAYING LOYAL ANYMORE TO THEM CUZ NATALIE AND REBECCA ARE CLEARLY TIGHT. I WILL WORK OTHER ANGLES. CIRIE IS MY MAIN ALLY BUT I AM LIKING KELLEY AND JACLYN A LOT.
The second immunity challenge contained 10 questions about IMDb Mystery games. The first two tribes to have someone submit the correct answers win. Crystal immediately spoke up and requested someone from the other tribe to send her the answers so her tribe could win too.
Kelley Wentworth
&
Dan Foley
submitted the correct answers the fastest and won for their tribes.
Narttu
was sent to tribal council.
VITTU
*the tribe is in good spirits after their win*
Spencer (confessional):
We won immunity and I'm not going anywhere. YAY!
*Dan, however, still looks grim*
Dan (confessional):
You know what good sign that your on the bottom is? No one talks to you. I have rental properties that I work on when I'm not golfing or spendin time with my wife. Sometimes in a house, small animals can find their way into a home through poor vents, small holes and cracks, mostly in the foundation. We're talkin' rats, mice, snakes, squirrels, and bats.  Our tribe isn't Fort Knox here. There's gotta be crack in the foundation somewhere where I can slip into a majority alliance. No offense to Robb, but him and me ain't a majority outta five people. Matt, for all his talk, is the invisible man. Whose to say that the vote for Matt wasn't a penalty vote. Robb says to me we can use Matt. I'm all for it, but you can't use a toaster if the toaster don't work. I need to snake my way into being the guy no one wants to vote out.
*Dan sees Brenda sashaying into view and approaches her*
Dan:
Considerin' we were the only two who showed up I'm relieved nothin' changed and we're still here.
Brenda:
Yup. I'm surprised you got a vote though.
Dan:
Bren, straight up, I think your the best player on our tribe. I think we worked pretty well in decidin' NaOnka should go. You're strong, active, and I'm pretty sure you know what you want and who you want gone. I want in. If your open to it I'm loyal, I show up, and I dont want to be the guy on the bottom. You know what I always say 'Flippers never win" so you can rely on my vote. If your open to it let me know.
Brenda:
No I agree. You and myself need to alliance up. We proved we are not floating about. I'm up for that 100% Dan. I have your back  .
Dan:
Great. I've got your back too. It will be pretty great to have someone to talk to. Spencer has barely said two words to me even though I've tried. Matt I've not talked to at all. I've talked to Robb though. Hes sort of just Robb, you know?
Brenda:
Robb is a short worded guy lol. He doesn't speak to me a lot lol. Matt pmed me and I tried Spence but be doesn't seem to be here as much as we'd want him right? I didn't speak to Mixon once.
Dan:
Spence and Matt are the invisible men. I know theyre on our tribe but I don't see them nowhere.
Dan (confessional):
I decided to take a stroll, rockin' the manties. I'm very comfortable with my body. I know I'm fat and I'm good with it, you know? If anyone doesn't like it, screw'em. After my stroll, I met up with Brenda, the conversation was brief but I'm-a thinkin' if I can get her on my side, I'll feel a lot better about my position. After talkin' to Brenda, I pled my case and she says she has my back. If I have Robb and Brenda I can sit back and coast for a couple of days. That's a big IF.
HUORA
*everyone is celebrating, Jaclyn still looks icily at the camera*
Jaclyn (confessional):
I have forged a cross-tribal alliance with Dan the Fool. I think this might be my favorite, most important alliance in the game. He's pretty much the most offensively unattractive person in the entire world. And I'm one of the hottest. He tells me I need to watch my ass but I'll let him do that for me.
*Kelley looks around and then goes off on her own and does a celebratory dance*
Kelley (confessional):
Apparently, NaOnka was voted out. I really never communicated with the woman, and I am glad Brenda was safe, so, I am not too upset about it. Brenda and Crystal are my girls from the other two tribes so as long as they are safe, I am cool. Bring it on bitches. Can't stop #HurriKelley
*Natalie stares at the fire*
Natalie (confessional):
IM SO SAD NA ONKA IS GONE! Actually not really. I mean I guess it sucks we lost a black girl alliance member, but she wasn't all that active. I think that tribe is kind of dumb though, and they definitely had better options to eliminate. But oh well. This game is really easy so far. I'm sure once we swap, it will get more difficult. But for now I'm kind of just slugging along, trying to keep my alliances in tact and up to date.
*Natalie smiles widely until Hayden comes up to her*
Hayden:
You've been real quiet lately. All good?
*Natalie scowls*
Natalie (confessional):
Hayden's kind of annoying me, so I'm thinking of replacing him in my alliance with Rob. Rob seems smarter and Hayden told me he thought I had been quiet lately, which means he thinks I'm not trustworthy. Um yeah, I was quiet because it was the weekend and I'm not wasting my time on the forum when there's no challenges! Puhhh lease. I think I'm in a good spot for now, but anything can happen in this game.
*Kelley returns and eyes Natalie*
Kelley (confessional):
I really want to make Natalie my main bitch, but she's not giving me good vibes. Her responses to everything I say are so like, I can tell she's not being sincere. I don't mean that she's lying. I just feel like she's faking being friendly. She's probably one of those players that has tons of deals and is trying to play it safe by not getting to close to anyone but her true final 2 deal, and I am starting to think I might not be it.
NARTTU
*Crystal throws down her bag*
Crystal (confessional):
DONE WITH KELLEY. SHES A CHALLENGE GODDESS AND DIDNT HELP ME EVEN THOUGH I ASKED IN ADVANCE. THE TRIBE LOST THE CHALLENGE. I WAS MOBILE AND NOT DOING MUCH SO I TAKE THIS LOSS SOLEY ON MY SHOULDERS. ESPECIALLY BECAUSE HAD I NOT BEEN MOBILE, I LIKELY WOULD'VE MADE THE SAME MISTAKE AS THE OTHER TRIBES WITH COUNTING SOMEONE TWICE AND ANSWERING INCORRECTLY.
*everyone looks over at Penner lying on the ground, he looks dead, Aubry pokes him with a stick....no movement*
Crystal (confessional):
PENNER SEEMS LIKE THE OBVIOUS VOTE SO I AM JUST GOING TO GO WITH IT AT THIS POINT. AUBRY ASKED TO WORK WITH CIRIE AND I AND IT MAKES THE MOST SENSE FOR A MAJORITY. SHE CAN HELP US WITH THE CHALLENGES.
*camera cuts to the sun setting and the tribe entering tribal council, the six members light their torches*
Tina:
Aubry, do you think the tribe can bounce back from tonight's loss or is this start of a trend?
Aubry:
I think we're fine, just a simple case of misreading a post. If I had noticed the second eviction of the same person we would have won.
*Crystal nods her head spastically*
Tina:
Crystal, you are very much about tribal spirit. How do you feel your tribe is doing thus far?
Crystal:
WE ARE DOING OK. 50/50 SO FAR. WE NEED TO WIN THE NEXT ONE AND I BELIEVE WE WILL.
Tina:
Gary, what are you basing your vote on?
Gary:
I saw someone suggest Penner so that's what I'm doing!
*camera pans to Penner, who is asleep*
Tina:
Cirie, you were the one who picked this team. Do you have any regrets regarding your selections?
Cirie:
Nope no issues so far. Im happy that our tribe shows up.

Tina:
Alright, let's get to the voting. Gary, you're up.
*Gary votes**Crystal votes*
Crystal:
YOU DONT EVEN BOTHER SHOWING UP. ARE YOU EVEN REAL?
*reveals vote*
I VOTE OUT JONATHAN PENNER. GO HOME!
*Aubry votes**Todd votes**Cirie votes**everyone looks to Penner, expecting him to get up and vote....he doesn't*
Sandra:
Once the votes are read, the decision is final. The person voted out must leave the game immediately. I'll read the votes.
First vote..
Spoiler:

Penner
Spoiler:

Penner
Spoiler:

Penner
Spoiler:

3 votes for Penner
Second person voted out....
Spoiler:

Jonathan Penner

Thank you for agreeing to play. I'm sorry that you came back from vacation the day you got voted out. I'm sure you could have killed it. <3
You've survived your first tribal council. Hopefully, now you guys can get it together and you won't have to come back so soon. Head back to camp.
Jonathan - reveal
I was sad that this player was on vacation and the beginning and couldn't recover from that. He's a very good player so you 16 left are lucky he was absent. I am talking about Snake-07.
Game Chart - so far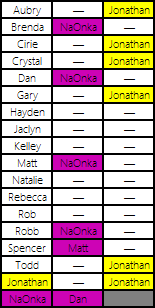 Edgic Chart - so far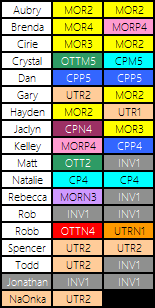 Admin




Join date

: 2016-03-18




---
Permissions in this forum:
You
cannot
reply to topics in this forum