Episode 8 - "WHAT AN UNCONVENTIONAL QUESTION."
INTRO:

Brenda Lowe...Cirie Fields...Crystal Cox...Dan Foley...Jaclyn Schultz...Kelley Wentworth...Natalie Anderson...Rob Mariano...Spencer Bledsoe...Todd Herzog
*The final 10 return to camp, Dan looks a bit sad*
Dan (confessional):
Robb went. I coulda given him my immunity but he wasn't here enough to justify it. Of course when he shows up he goes off like a volcano on speed. Most importantly, Im down an ally. My closest ally, Boston Rob, confided in me some personal information of stuff that's goin on with him. Not my place to say what. I genuinely feel for the guy. This is just a game and if he is in it I'm with him all the way. If not, my game is screwed. I'm okay with that. As long as he takes care of himself, that's the most important thing. The game however is still goin on. A lot needs to happen. Cirie needs to lose immunity. Jaclyn needs to show up. Natalie needs to grow a pair and start owning this game. No one is steppin up. People need to start wakin up and realizin Crystal is the biggest threat in this game. She needs to go. She needs to go like yesterday. I've been talkin to Natalie and she wanted to know where Brenda stood. So I approached Brenda. After speakin' with her she has the same thought I had. It's time for people to start makin a move. However, the move she wants to make is against Natalie. That is another move that will weaken my game. Brenda, I don't know what her endgame is lookin like but I don't see myself a part of it. On the other hand Natalie people see her a threat and will be voted out eventually anyway so who knows whats gonna happen?
*Todd looks pensive and questioning*
Todd (confessional):
I am going to jac sometime soon because I know I could never beat cirie or Crystal at the end I don't want to be one of there goats. It's the time to start thinking of end game possibilities
*the camera fast forwards to the immunity challenge*
In the third individual immunity challenge, I posted "GO" and the first person to post moved on to the next round. That person then chose someone to advance to the next round with them, that person chose someone else, and so on and so forth until one person was left in the dust and eliminated. After that the eliminated person chose who becomes the first link. This will continue until two are left and they competed in the same speed competition as the first round.
Summary of Events:Brenda, Cirie, Crystal, Dan, Kelley, Spencer and Todd competed
Brenda-Kelley-Cirie-Dan-Spencer-Crystal (Todd eliminated)
Cirie-Crystal-Spencer-Dan-Brenda (Kelley eliminated)
Brenda-Dan-Spencer-Crystal (Cirie eliminated)
Brenda-Spencer-Dan (Crystal eliminated)
Brenda-Dan (Spencer eliminated)
Brenda wins!
*listed the links in order of how they were picked
*the final 10 return to camp, Brenda looking overjoyed, Crystal pulls Kelley aside*
Crystal:
hey....between you and me....I think it's obvious Dan/Spencer/Brenda are a tight 3. They were all original purple and it's just my gut. For this vote, whether we hit one of them or an inactive, I'm cool with whatever, but just wanted to share my thought.
Kelley:
Yea I am seeing that now in this challenge lol I feel like we should get rid of one of them tonight. Maybe Dan if he doesnt win immunity
Crystal:
I think so too. I'd be good with sending Dan out. He's a big threat. Since Rob and Jac are inactive, I can try to get Cirie/Todd on board?
Kelley:
Yea that will work. I can talk to them later too if needed, but if Dan doesnt win, we definitely should vote him out.
Crystal:
Ya I want him too. Will Nat do it?
Kelley:
I think Nat said Dan is grateful towards Rob and Jac for saving him back when we were on tribes and Dan reached out to her. But I dont think they are that close. I think she'll be ok with it. We can just suggest Dan's name in the room for us 3
*Crystal leaves Kelley and finds Cirie*
Crystal:
Hey, just so you are comfortable, PM Kelley W. I believe she will vote out Dan this time. Then once it happens, we have the option to flip back to Spencer/Brenda OR continue taking those 2 out. Then our 3 will have a majority if we keep acting distant. We got a real shot girl
Cirie:
Ill message her, do you think any of them have an idol.
Crystal:
Dan/Brenda/Spencer could, we'd need to keep it quiet between us Kelley and I think Kelley will ask Natalie.
Cirie:
Okay
Crystal:
Shoot, does Todd not want Dan? If needed we can ask Nat/Kelley to switch haha
Cirie:
idk. Ikmow he talks to Dan, I do to but after that game it shows who his loyalty is to
Crystal:
Spencer just PMd and said him/Dan were thinking of voting you or Todd. We need Todd's vote agh. (Please don't say a thing!!) You/me are good with Natalie cuz of the black thing.
Cirie:
I hope so but todd is talking crazy shit.
Crystal:
Maybe we ask Rob M or Jac. Ugh. I don't know what to do. Brenda can't vote. 9 votes in play. You/me/Nat/Kelley vote DAN. If Dan/Spencer vote you, and Todd votes Nat, it would work out fine. But I don't want you in danger.
Cirie:
I think im going. I just asked dan what his thoughts are and he said he heard natalie. asked spencer no response
Crystal:
You won't go. I'd PM Rob and Jaclyn and say you'd like to work with them. I believe Kelley and Natalie will have your back. Todd wouldn't vote you. I think you're ok.
Cirie:
Same here I have messaged everybody. I kinda agree if they arent going to vote one of us. It pissed me off when they voted aubry over robb and jac.
Crystal:
I know. I still think we should hit Dan this time. Before things get flipped on us. We can get Jac or Rob anytime.
Cirie:
ok im fine with whoever
Crystal:
k. Let's not chance it and vote Dan. To my knowledge, Natalie and Kelley have not said your name to go so going forward they may be smartest to keep us both in (whereas Spencer did say your name). Long-term they are threatening!
Cirie:
Kelley just messaged me and said she was okay with dan. Should we tell todd or let him think we are voting spencer to keep him happy. We could always tell him dan this week and next week we will vote who he wants
Crystal:
Sure, let's try that!
Cirie (confessional):
WTF looks like I could be going because I won immunity twice. If I leave for actually showing up I am going to blow a f*cking gasket.
*We now see Natalie and Kelley speaking in hushed tones*
Natalie:
Hey so I don't think Dan is the biggest threat right now, especially if you have Brenda on your side. Cirie and Crystal are RUNNING this game :/
Kelley:
Are they really? I think the way the challenge went was pretty telling. Plus if it's true she's throwing you under the bus, then that further proves she's with Spencer and Dan. I guess the question now is, who do you want to work with, Dan/Spencer/Brenda or Cirie/Todd/Crystal?

If only Rob and Jac were more active, we wouldnt have to worry

Natalie:
It's hard because Cirie/Todd/Crystal are better than us at challenges and will beat us in the end, but I trust them more than the other side :/ I know I'm so mad at Jac for disappearing! Hey who told you that Brenda was with Spencer and Dan? Because Spencer is trying to get me to vote with him (lol) but he's saying he needs him/Dan/Jaclyn/Rob/me. He doesn't even consider Brenda as a number that would vote with him. Is Crystal spreading lies about Brenda lying about me? Or do you think Brenda is actually after me?
Kelley:
He didnt mention my name at all? The little bitch </3 Hmmm, well Crystal said that she think Dan and Brenda and Spencer are all together. And in the challenge all 3 kept saving each other so it made sense. I asked Brenda just now what she wants to do. She doesnt know that I am with you, so hopefully she says something.
Natalie:
Okay let me know what she says. And I just realized that Brenda can't vote so that might be why they didn't say her name lol. She could give her immunity up if she was actually with them though.
Kelley:
Oh crap yea I forgot about the twist. Well I guess I'll ask her differently then since she has no vote lol
Natalie:
We just need to think about what we're gonna do next. I'm pretty sure Dan will go this round, they just don't have the votes to save them. Next do we start to work with Brenda and Spencer before Cirie/Crystal turn on us? Or do we stick with Cirie/Crystal for a few more votes? It's hard cause there's one group of three and then another group of three and then there's us lol. Our third went all inactive!! Lol
Kelley:
I think we can do Dan this round, and hope Rob and Jac become active again next round. Then we have options . The two of us flip flopping could be dangerous. I PMd Rob earlier and he told me he's not very active because of real life, but at least he showed signs of life. I just hope Spencer or Brenda are not too angry that they dont want to vote with us if we decide to go against Cirie/Crystal!
Natalie:
Yeah they're thinking of voting Jaclyn because she'll get a penalty vote and then they'll only need four votes. I bet if we vote Dan this time, we could get them to vote Crystal next. It seems like all the votes so far have just been whoever names a name first, that's the person who goes lol cause everyone follows. If we tell people right when the challenge is done that ______ is the name (whoever we decide) then we should have the votes id imagine! You and I just will have to pick who that person is lol
Kelley:
Haha awesome! And I am glad Jac is active again. Should we tell Rob? I remember you saying Dan was grateful to Rob and Jac for saving him, so hopefully Rob and Jac didnt get too close to Dan. Otherwise it's trouble lol. A tie would not be cute. I am voting for Dan now. Hopefully it goes in our favor.
Kelley (confessional):
I was doing so good with my Death List Five, having already elimianted Aubry and Robb. Cirie was supposed to be my next target, but chose Dan once Crystal told me they were close. I CANT FUCKING GET RID OF THIS BITCH DAN LIKE I SWEAR I AM SO ANNOYED BITCH YOU NEED TO LEAVE!!!!
*Crystal approaches the two and joins the conversation*
Crystal:
I think this challenge made it very clear that Brenda/Dan/Spencer are a tight 3some. Dan is a huge threat. We should keep it quiet in case he/them has an idol.
Kelley:
Yea definitely. If any of them asks me, I'll tell them I am voting for Jac lol I am going out for a bit but I'll be back in about an hour.
Crystal:
Ok! Let's do Dan and say Jac if anyone asks. I wonder who they wanna vote. Done deal ladies. Nat, please don't say anything but Brenda suggested your name to me. She seems to think Dan/Spencer will vote with her. I won't be giving my vote but I think we have enough on Dan. Maybe we should ask Jac or Rob M if you think they would?? or ask them to vote off at least.
Natalie:
Ugh why would she do that to me!! I'm down for voting Dan, I'm down for anyone except our alliance lol
Crystal:
I don't know, but the votes are there on Dan I think. It just can't leak!!
Natalie:
I doubt there's an idol unless it was given out at that reward. Was he online for that? And what all votes do we have?? I want to make sure I'm safe :/
Crystal:
Cirie, you, me, Kelley for sure. there's 9 votes. Jac will penalty again. Todd got off but wanted to ask him. Does anyone talk to Rob M?
Natalie:
I can try to talk to Rob about it! What did Brenda say about me?? Lol
Crystal:
You are a social threat with lots of rooms lol
Natalie:
Lol how does she know anything about me? I haven't talked to her once
Crystal:
That's probably why! Lol. Spreading lies and what not.
Natalie:
LOL at Brenda finally deciding to play. I am voting Dan! Cirie knows about it already right?
Crystal:
Yep she is voting Dan! We just need one more for sure. Todd got off and idk what he is doing. I'll check back in the AM
*Crystal leaves this group and finds Todd and Cirie*
Cirie:
Sorry I wanted to pick one of you but I didnt want to blow our cover. Well that tells us who dan and brenda are aligned with
Crystal:
DAN/SPENCER ARE A TIGHT DUO. THEY MAY BE WITH BRENDA BUT NOT 100% SURE.
Cirie:
We need to keep kelly and brenda out of the finals. They seem the fastest. It would be great if we could get you immunity Crystal
Crystal:
ID RATHER BE IN THE VOTE.....I WANT TO MAKE THIS CHALLENGE EVIDENT THAT DAN/SPENCER/BRENDA ARE A PAIR. IT HELPS SHIELD OUR GROUP I THINK.....SINCE THEY ARE "STRONGER"
Cirie:
I was just thinking the same thing. I need to beable to vote to
Crystal:
We will be, Dan/Spencer/Brenda are a tight 3some, so we will get axed. What do you guys think about splitting them tonight maybe? I am hinting the idea to Kelley now, who can bring in Nat...I think! This challenge is a great thing for us
Cirie:
looks like kelly is with them
Crystal:
No, she brought it up to me LOL. She wants them out. Remember I told you guys when I was on that tribe, Nat/Kelley approached me to vote out Spencer or Robb. I have an in for us
Cirie:
Im fine with one of them gone, they just showed me that they will not be loyal to any of us. Dan or Brenda would be better they show up to more challenges than spencer
Crystal:
Todd, what do you think? Should we go after Dan?
Todd: I think so he acts like exactly the same way on the show in his pms.
Cirie:
We just tell people we heard spencer
Crystal:
Brenda wants me to ask you guys to vote Natalie, so if any of Dan/Spencer/Brenda ask be ok with it? lol. It looks like us 3, Natalie and Kelley will all vote Dan. We don't tell Rob or Jac anything!! Everyone needs our votes you guys, we are doing great!
Cirie (confessional):
To hell with Dan and Brenda, I tried to be nice since they had no one on their original tribe. I guess they have friends now. I know Brendas pissed about the Hayden vote but obviously im going to keep my original tribe member. DUH
Todd:
I wouldn't mind getting rid of spencer
Crystal:
I think spencer does have the idol out of any of them, so Cirie good point we can flush his idol and do him next? That idol is scary! I am fine to do whoever lol
Todd:
Wait Brenda can't vote why is she telling you anything?
Crystal:
She asked me during the challenge haha She's a threat too. All 3 of them! And so is Kelley W. but one person at a time. I gotta go soon
Todd:
I wouldn't mind voting Natalie
Crystal:
She is a threat! They all are in different ways. I'm fine with whatever we just have to be careful. I worry Cirie is a target cuz of immunity wins. People could go for her.
Crystal (confessional):
TONIGHT WAS A SUCCESS. I WANT TO PUT CIRIE AND MYSELF IN A POSITION TO BE NEEDED. TODD WAS INCLUDED BUT HE DOESNT APPEAR TO BE A CONTROLLABLE VOTE ANYMORE. THATS NOT GOOD FOR HIS FUTURE. I CALLED OUT BRENDA/DAN/SPENCER AND THEN IMPLIED NAT/KELLEY ARE A PAIR. IT MAKES MY VOTE NECESSARY CUZ BROB AND JAC ARENT RELIABLE. I WILL KEEP PLAYING ALL SIDES OF THIS UNTIL IT BLOWS UP ON ME BUT RIGHT NOW I FEEL VERY WELL COVERED. I AM GOING FULL SPEED AHEAD ON TARGETING DAN. HE HAD A PROBLEM WITH ME REMOVING HIM OUT OF A CHALLENGE AND WE DONT TALK MUCH STRATEGY, HE IS A THREAT SO IF HE GOES IM IN AN EVEN BETTER SPOT!
Todd (confessional):
I an hearing dan is the vote but I am hoping it changes to Natalie or Spencer I think they are bigger end game threats then Dan could ever be.
*We see Dan, Spencer and Brenda in a group talking*
Brenda:
We may need to break up Cirie etc after this round guys.
Dan:
Cirie losin immunity thats somethin to consider. Will we have another opportunity? I'm on the fence on this one. Natalie never competes in immunity.
Spencer:
Tbh I think I'd rather do Cirie
Brenda:
Hm, true but it's the numbers. Can we get them? I think someone will tell her. I only trust you two 100% I think she has the idol. If she finds out we tried to take her out. If we get the numbers down I think we can get Cirie. Plus, she only one as no one was on lol.
Dan:
I think it's gonna be me tonite.
Brenda:
No I've not heard anything about it being you.
Dan:
Crystal, Kelley, Todd, Cirie are votin me. They won't say anything to you because they want to break us up.
Spencer:
We're voting Crystal I believe. We're sorta piggybacking on Jaclyn
Brenda:
Crystal? What if Cirie uses her idol on her? I think we should split the vote. More on Crystal but some on another. Who us there? Jaclyn will vote with us. I guess we can do Crystal and Cirie?
Dan (confessional):
One second man. I lost immunity by one lousy second. The issue now is where the vote should be headed. Brenda wants Natalie out but Cirie won 2 immunities in a row. I'm also aligned with Natalie and Brenda. I'm caught in the middle. I don't really wanna be in this position. This gonna need to take some consideration. I do not want to flip on Natalie. Flippers do not win.
*Dan approaches Natalie*
Dan:
What have you heard about the vote?
Natalie:
Crystal is telling everyone to vote you. We need to make sure that doesn't happen. Who do we have on our side? Crystal also told me Brenda suggested my name to vote....I think our best shot is getting you/me/Spencer/brenda/Rob to all vote out Crystal!
Dan (confessional):
The Schmoozer is about to become the the tenth place loser. It's lookin' like Cirie, Crystal, Kelley, and Todd are all votin for the Danimal tonight. Which means Boston Rob, Natalie, Spence, and me are in a tight spot. Jaclyn has not been active at all. But she is ultimately the swing vote. I have an alliance with her and she's not even here! That's my luck in this game! I'm hopin she shows up like the cavalry because my game is about to flatline here. Spence has a great idea. Let's all vote Jaclyn. We're safe and we can move on. Natalie is focusing on votin Crystal. I'm desperate but realistic. It will take a miracle to save me.
Dan:
Spence suggested Jaclyn. She's not been around. All we need is four. You me Spence and Boston Rob. This is not the ideal solution but it guarantees both our safety with limited risk. I don't disagree that Crystal is a threat but if both our names are floatin out there we may need to vote Jaclyn. But it all depends on Spence.
Natalie:
Is Brenda not with you and Spence? I was hoping she was so we'd have another vote
Dan:
Brenda can't vote she has immunity
Natalie:
Oh she can't vote. I think the only way to get the numbers to save you is if she gives immunity to like Cirie and then we all vote Crystal. Cause best case scenario if you/me/Spencer/Rob vote together that's still only four votes and there's 9 total
Dan:
They're all votin me from what I hear. Unless Jaclyn shows up, I'm done for. Crystal, Cirie, and Todd are very likely votin for me. Kelley, I have no clue.
Natalie:
What happens in a 4-4-1 tie? If you/me/Spencer/Rob still vote together?
Dan:
I assume there would be a revote
Natalie:
You think Jaclyn might get online by the time a re-vote happens and she'd vote with us? I wonder what the timeline would be like.
Dan:
Good question. I'm gonna try to contact Jaclyn. She's the swing vote.
Natalie:
What is Spencer voting? Hopefully Rob will get online soon
Dan:
JACLYN IS BACK! JACLYN IS BACK! Do I tell her Crystal?
Natalie:
I'm going to tell Rob to vote Crystal! And I'm hoping spencer will vote Crystal as well. Then that should be 5 and be enough!
Dan:
I sent Rob a message too. Kelley is voting me. She thinks I'm with Brenda and Spencer. This is what happens when people don't talk to me.
Dan (confessional):
Jaclyn came back and needed a name to vote! I was happy, elated, ecstatic! Natalie told me Crystal! So I said Crystal! Then Spence said Natalie told him not Crystal. What the hell man?! Does it really matter dude??? My alliance has a fracture the size of the Grand Canyon. I'm gonna get voted out because my alliance cant get their crap together.
*Crystal looks at the chaos going on and looks pissed*
Crystal (confessional):
I THINK TODD IS A DIRTY ROTTEN LIAR AND LEAKED DAN GOING. HE PROBABLY THREW MY NAME OUT. I AM SCRAMBLING BUT THIS COULD BE MY LAST FEW MOMENTS IN THE GAME!
*Jaclyn lazily wakes up*
Jaclyn (confessional):
So far my under the radar strategy seems to be paying off. No one is calling me "inactive", they are just saying I'm busy. I still have a shot at winning this. Congrats, Jac! My main allies are Boston and Dan. Final 3! Those are my two boys. Ultimately though I'm just here to cause trouble. The girls Natalie and Kelley think I'm still with them. So does Crystal. That's why I haven't been voted out. I also had a tight alliance with Bro Robb! People think I'm not here but I've been here enough to secure my safety. Kelley seems to be playing both sides so I shared some of her pm's. People are just too wishy washy about her needing to get the fuck out of this game so hopefully the info in these pm's will give everyone that little extra push they need to target her officially. I mean, she's way too aggressive and makes it SO obvious that she's fat. I can see her gameplay 15 miles away. Transparent much? Like your translucent skin. I asked her about the vote and she TOLD me who to vote. You don't know me, honey. Nobody tells me what to do. So I'm hoping to get her out of here next. Everyone wants it to be Cirie but I think that's where I'm going to flip over to once Kelley is gone. Kelley is way too strong and is my single biggest competition. I have to get rid of her. As of right now though, we're waiting on the "Crystal boot" tribal council. But something isn't right. Dan and Crystal are both in here. They PM me, and then they get quiet. I think they have a secret alliance? I want Dan to win but not if he's gonna be double and triple dipping. Watch YOUR ass, Dan!
*Natalie sits down after a whirlwind of talking strategy*
Natalie (confessional):
Well this round is certainly a doozy! Part of my plan since the beginning of the merge was to avoid looking like a threat. I'm pretty good at these challenges, and I think I could win a lot of them. But it's soooo early in this merge game! I don't want to be a target! *coughciriecough* Well girl, the only reason you're winning all these immunities is because I don't want to! For two reasons! 1. It would make me a target and 2. I wouldn't get to vote at tribal! That would suck because my "side" needs all the votes it can get. The problem is, I don't know what side I'm on anymore. I love Kelley and wouldn't vote her out (this early in the merge game at least) but I don't love her friends that she's been fraternizing with. Crystal needs to go home, and I'm hoping it happens sooner rather than later. I have a couple options at the moment though. From my understanding, this is how the vote will fall. Brenda is immune and cannot vote. Cirie/Crystal/Todd/Kelley will be voting for Dan. 4 votes. Dan/Spencer/Jaclyn will be voting for Crystal. 3 votes. And that leaves Rob and I as the swing votes! Hopefully. I could be totally wrong about this, but we'll see. Spencer and Dan wanted to vote out Todd for some reason, but I kept suggesting Crystal's name and I got it to stick. So now I have an option, and my whole plan is to get Rob to decide on it so I build trust with him. I want him to feel like he's the one deciding who to vote, when I know that he'll most likely want to vote for Crystal.
*Spencer comes and sits next to Natalie*
Spencer:
Do you think we could bring Jaclyn over?
Natalie:
She told me she was voting Crystal!
Spencer:
yeah she already voted Crystal. So I guess we go with that.
Natalie:
Okay works for me. So that'll be Jaclyn/Dan/You/Me voting Crystal. I messaged Rob and hopefully when he gets online he'll vote the same way!
Spencer:
ok cool. I sure hope this works.
Natalie (confessional):
I'm waiting to hear back from Rob (plz come online boo thang) and when he says "Yeah let's vote for Crystal" then I'll probably follow suit. If he wants to vote for Dan, I'll probably do the same. I could still work well next round with Dan being out. I'd still be in a good position. If Rob doesn't get on at all, then it would be a 4-4-1 vote with Rob getting a penalty. But who knows! Maybe I'll make things interesting and play my advantage. Anything can happen in this crazy game of Survivor
*Jaclyn looks around and is extremely annoyed*
Jaclyn (confessional):
If this ugly bitch CIRIE and her lopsided picture get me voted out with an idol...I will rip hair out. I don't understand why Dan would be so demanding for me to hurry and vote when they hadn't even solidified a plan yet. Do these idiots not even watch Survivor? Maybe the last one they saw was Thailand? You have to plan around these obstacles. If this backfires they have no one to blame but themselves.
Tina:
Welcome to tribal council. We'll now bring in the jury. Aubry and Robb, voted out at last nights tribal.
*Robb looks smug*
Tina:
Brenda, are you keeping immunity?
*Brenda doesn't respond quick enough and is locked in the spy box, she looks pissed*
Tina:
Cirie, your vulnerable for the first time since the merge; nervous?
Cirie:
Yes im nervous, I have no idea what everyone is thinking at this point.
Tina:
Crystal, can you get loud too, what the fuck?
Crystal:
WHAT AN UNCONVENTIONAL QUESTION. YOU KNOW WHAT THO, I THOUGHT ABOUT CALLING MEDICAL EARLIER CUZ IM FEELING A BIT HOARSE. SO FAR I DO NOT NEED TO BE PULLED FROM THE GAME.
*Tina and Sandra giggle*
Tina:
Dan, what is the feeling as we move closer to the end game?
Dan:
I havent the foggiest idea. Someone's gettin voted out and unless she's givin up immunity it's not gonna be Brenda. And if she is gonna give immunity away I'd like to be the first person to ask for it. Please.
Tina:
Jaclyn, are you present?
Jaclyn:
I'm present. I like the immunity twist.
*Jaclyn smiles creepily*
Tina:
Kelley, are you concerned that you were the only original Huora to show up to the challenge?
Kelley:
I am not really sure why that should make me concerned. I think that just means Nat, Jac and Rob were probably busy tonight. I am more concerned about not having the necklace on tonight, Tina.
Crystal:
WHY ARE YOU NOT CONCERNED? TINA COULD BE HINTING YOU SHOULD BE.
Kelley:
OF COURSE I WAS CONCERNED ABOUT BEING A TARGET BUT THAT WAS NOT THE QUESTION, I JUST SAID I WASNT CONCERNED THAT I WAS THE ONLY ONE FROM MY FORMER TRIBE ON LAST NIGHT
*The soundtrack stings*
Tina:
Natalie, should the person leaving expect it?
Natalie:
To my knowledge no one has been told "you're going home" so I don't think the person going will expect it. I have no idea who's aligned with who so unless everyone knows a lot more than me, I'd say whoever goes home won't totally expect it. But like the last two questions I have gotten Wink everyone should be nervous, right? This is Survivor!
Tina:
Alright, time to vote. Rob, you're up.
*Rob approaches the voting booth*
Rob:
I don't know what to do. I don't want to vote Dan, but I also want crystal in my back pocket. If Natalie would confirm Dan is staying no matter what... I could throw a vote.
*Rob writes down a name but we aren't shown who he votes**Cirie votes**Natalie votes**Kelley votes**Crystal writes down Dan's name*
Crystal:
I VOTE OUT DAN. ITS NOT YOU ITS ME. YOU ARE THE ONLY PERSON IM AT ALL THREATENED BY. YOU HAVE A GREAT UNDERDOG STORY HAPPENING.
*Spencer votes**Todd votes**Dan writes down Crystal's name*
Dan:
I have no clue what the hell is goin' on. What I do know is, that I'm likely leaving tonite and if you make it to the end you'll win.
*Jaclyn writes down a name but it isn't revealed*
Jaclyn:
Thanks for the alliance this far. You are too strong of a player to keep around. Sorry.
Tina:
Once the votes are read, the decision is final. The person voted out must leave the game immediately. I'll read the votes.
First vote..
Spoiler:

Dan
Spoiler:

Crystal
Spoiler:

1 vote Crystal, 1 vote Dan.
Spoiler:

Crystal
Spoiler:

Dan
Spoiler:

2 votes Crystal, 2 votes Dan
Spoiler:

Dan
Spoiler:

Crystal
Spoiler:

3 votes Crystal, 3 votes Dan.
Spoiler:

Dan
Spoiler:

Crystal
Spoiler:

4 votes Crystal, 4 votes Dan, 1 vote left.
Ninth person voted out and the Third member of the Jury....
Spoiler:

Crystal Cox

Thank you so much for agreeing to play. You were such a fun personality this season and you brought so much to the game. It was great to see you play and play hard. I'm sad to see you go!
Congratulations on surviving another tribal council. We're down to single digits. Head back to camp.
Crystal:
I AM SO PISSED IM STUCK WITH ROBB I WILL RETURN AS A JURY THANKS FOR LETTING ME BE ME TINA
Tina:
Keep on keeping on girlfriend! See you at the final tribal council!
*respectfully snuffs the bitches' torch*
Crystal (exit confessional): CRYSTAL COX SAYS GOODBYE:
WELL I SADLY WAS RIGHT. IT WAS ME. MY GUT HAD AN INKLING AND ITS NEVER WRONG. YOU KNOW WHAT, I DID THE BEST I COULD. I HOPEFULLY REPRESENTED THE AFRICAN AMERICAN COMMUNITY WELL. I IMPROVED MY CHALLENGE PERFORMANCE TOO. I TRIED TO LOOK OUT FOR MY CLOSEST ALLIES AND PROTECT THEM. I WAS HONORABLE DESPITE BEING ALIGNED TO EVERYONE IN THE FINAL 10. I AM GONNA BE A GREAT JUROR. YOU CAN LOOK FORWARD TO SEEING ME THERE. MAY THE BEST PLAYER WIN!
Xo
MEL

Crystal – reveal
Obviously, Crystal is The_Queen_Mel <3 I absolutely adore Mel and I'm so happy she decided to play this season after a little bit of nudging to convince her too. She played Crystal perfectly and honestly could've won the game but was booted for being a huge threat. You go girl <3
Game chart – so far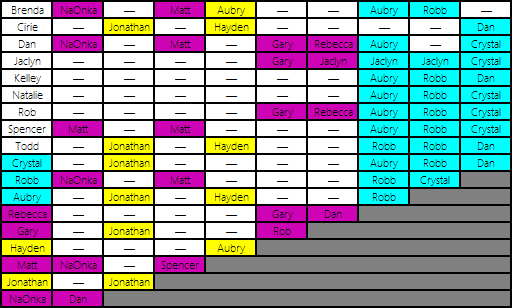 Edgic chart – so far
Admin




Join date

: 2016-03-18




---
Permissions in this forum:
You
cannot
reply to topics in this forum