Episode 7 - "I hope the hosts are not too mad at us."
INTRO:

Brenda Lowe...Cirie Fields...Crystal Cox...Dan Foley...Jaclyn Schultz...Kelley Wentworth...Natalie Anderson...Rob Mariano...Robb Zbacnik...Spencer Bledsoe...Todd Herzog
*the remaining players return to camp, Natalie & Kelley sneak off and high five*
Natalie:
I'm glad we made it through that lol I feel like we have a lot of people on our side but I don't have a firm grasp on WHO is on our side besides Jaclyn and Rob and Jac didn't vote lol
Kelley:
Well I think Brenda voted with us and so did Crystal so that's 4 of us. We just need to talk with Jac and Rob to see where their heads are at, but that's 6 already. Hopefully Jac isn't inactive now, that could hurt us
Natalie:
Yeah I got worried about that too, two votes in a row :/ I'm sure she'll get more into it. I think Dan and Spencer voted with us too, and I know Rob did. I don't know if Crystal is trustworthy or not lol and I haven't talked to Brenda but she seems sweet! I need to get in contact with her so we all can work together
Natalie (confessional):
Well, my plan worked and Aubry went home. I'm the one who planted Aubry's name in everyone's head, and the whole tribe just kind of went along with it. And I don't think everyone's realized that I'm the one with connections to everybody. That's great for me! Now yes, I'm connected to (most) everybody in one way or another, but do I trust anyone? Nope! Not even Kelley, my "closest" ally. She's starting to act a little shady, and I don't know what to do about it. I don't think I need to do anything ASAP, but I definitely need to watch it. I don't really care who goes this round, as long as it's not me or one of my "closest" peeps.
*Crystal joins Natalie & Kelley*
Kelley:
Sorry I've been mobile all day and havent had the chance to check rooms. i voted aubry because thats who i heard sorry im a mess right now i'll log in later from my computer and talk to you ladies
Crystal:
I voted her too cuz I heard the same thing!
Kelley:
Well I am glad we were all on the same page! I promise I will be more active tonight and for this vote. I am so sorry again for the lack of communication Sad
Natalie:
Same! I've been sooo busy being out of town the past few days, and I'm gone until Thursday so it's hard!!
*Natalie walks away and Crystal keeps talking to Kelley*
Crystal:
That was nice of you to write that thing about communication yesterday. I will try to be better too! We have a real chance to get to the end!!
Kelley:
Hey girl! Yes we really do and I trust you and Nat more than anyone in the game, so we can definitely do this
Crystal:
Me too girl!
*Crystal walks away and joins her pals, Cirie and Todd, the camera zooms in on Todd*
Todd (confessional):
Aubrey led which sucks I am very worried it's me next.
Crystal:
This sucks
Todd:
Why couldn't they go after one of the two people that couldn't bother to vote.
Crystal:
cuz they were scared. Ridiculous.
Todd:
They should be scared of people like Spencer and Natalie Anderson
Cirie:
and wentworth. She has been at many comps just no one can tell cause she is unknown
Crystal (confessional):
AUBRY LEFT. THAT WAS OUTSIDE OF MY CONTROL I HAVE TO ADMIT. ITS TIME FOR ME TO STEP UP NOW. I COULD MAKE TOP 10 AND THEN JUST KEEP ON GOING!!
*The camera pans to Dan, who is smiling and laughing*
Dan (confessional):
Another Tribal Council down. The plan worked beautifully. Aubry was sent packin. It's too bad too cuz before the very first challenge we were pretty cool. But if you don't keep tabs on people that will help you down the line you've just ended your game before it even started. Look at me. I'm old, fat, bald, and I was on two losing tribes. How did I suddenly put myself in the majority alliance? Schmoozing works!
The second individual immunity challenge required the players to use IMDb to look for User ID's that contain the word Survivor. This proved the be harder than it looked.
Dan
submitted two but they weren't active, so he didn't score and
Cirie
submitted that she couldn't find any, and no one else submitted. So, since both tied at 0 points, they BOTH won immunity.
*the players return to camp, Cirie sits her necklace down*
Cirie (confessional):
I am so sick of all these people not showing up to comps. Why sign up for the damn game if your not going to play. Wentworth says she was here but how are we supposed know that when your login is hidden. I havent played that many games but this is the most inactivity I have ever seen
*Dan approaches Cirie and high-fives her*
Dan:
Lol congrats on winnin the "participation immunity necklace"
Cirie:
Yea it sounded like some people dont want to win so they can vote. How ridiculous. Wentworth says she was here but I cant tell cause she is hidden
Dan:
That sneaky Huera.
Dan (confessional):
I won immunity by scoring no points! As sad as that it is, I won immunity! But so did Cirie. Vittu! This is the first time in a long time that I can say I'm completely safe. So, as much as I want to hold on to this immunity and keep myself safe, I may need to give it up to ensure I have a vote for my alliance at the next tribal. Robb and Jaclyn both got penalty votes. This is the second tribal in a row where Jaclyn got a penalty vote. She's not reliable which sucks for me. A smart player would see that as an opportunity. Especially if I keep immunity. I'm one less vote. There's 9 people eligible to vote. 2 took penalty votes. If Crystal and Todd are smart they'd target an inactive and pull in someone like Brenda or Spence to knock out Robb or Jaclyn.
*Crystal and Kelley approach each other to discuss the vote*
Kelley:
This is hilarious. I hope the hosts are not too mad at us. I did really try but I couldnt find a single username haha. So who do you guys want to vote for? I am open to ideas.
Crystal:
Maybe one of the boys? Who is the strongest? We can always do a fallback girl alliance lol
Kelley:
Robb maybe? He's like, super inactive and a waste of a space so I wouldnt mind seeing him go
Crystal:
I'm good with that!
Kelley:
Cool, I will go vote for him now then. I feel like everyone is so low key, and with the idol (if there's one) not being played last tribal, it makes me think it's in good hands and we should be ok for a while as long as we stick together.
Crystal:
I'm still a little nervous about it. If we keep targeting the inactives it should keep us in a good spot
*Kelley makes a beeline to Natalie*
Kelley:
You ok with voting Robb? I suggested his name but I havent voted yet, so I am open to other suggestions!
Natalie:
I think Todd won't vote with us in the future after we got out Aubry so that's what I was thinking, but it might be good to get an inactive out in Robb. So honestly I'm good with either.
*Kelley nods and sprints to where Brenda is*
Kelley:
Hey girl, you ok with voting out Robb? He's very inactive so I thought most people would be ok with voting him out lol
Brenda:
Yes! Ugh finally. I wanted him out for ages lol.
Kelley:
Hahah, me too. I wanted to throw a challenge in the tribe stage to get him out, but was worried Crystal could work with him and Spencer to get me out. But hopefully he goes this round.
Brenda:
Oh right. No I think Crystal wanted him out too. Ugh Robb.
*Crystal approaches her Narttu buddies*
Crystal:
CRAP!! CIRIE, YOU AND DAN BOTH CANT VOTE SO THERES NO POINT TO THIS ALLIANCE HAHA. BUT IM REALLY HAPPY FOR YOU AGAIN ON IMMUNITY. YOU ARE TERRIFIC!
Todd:
Great job cirie
Cirie:
I know. It sucks but it dont suck.
Crystal:
Todd, I will keep you posted on what I hear. If we make sure it's not us, we are all in the top 10!
Cirie:
I think you all need to push for people who havent shown up to any comps. They are just floating on by cause they are not a target cause they dont play.
Crystal:
Ok I will try Robb. He will penalty again I bet too.
Cirie:
Sorry im not trying to be pushy. lol. its just aggravating because i dont think some people have showed up for any challenges
Todd:
I agree let's try to get Robb out
Crystal:
please girl! You don't need to apologize, we are in this as a group. Anything anyone wants to say, I wanna hear. I'm sure Todd feels the same.
Todd:
Yes I do
Cirie:
OMG. I heard Robb is the vote not sure if people are lying or not
Crystal:
I think he will go
Cirie:
Good he should. I guess they were worried about Aubry being able to win challenges when she was able to show up
Crystal (confessional):
I RALLIED SOME VOTES AGAINST ROBB TO SAVE TODD. HOPE IT WORKS.
*We now see Dan and Natalie talking*
Natalie:
Congrats boo!!!! even with no points haha it still counts!!
Dan:
Thanks. Me and Cirie won thanks to the two greatest words in the English language DE-FAULT! DE-FAULT! Seriously whatcha thinkin tonite?
Natalie:
Everyone's telling me Robb which makes me sad but he hasn't been active in a while :/
Dan:
Hmm. On one hand he ain't been active. On the other hand he's the biggest goat in the game.
Natalie:
Yeah I'd rather vote Todd, but I don't want to make a target of myself. We should try to get Todd out next vote though. We'll need five votes to be majority!
Dan:
Todd would be my choice.  Robb is the easy vote.  Is the easy vote the best vote?  The question is, who do you REALLY have on your side?
*Natalie looks pensive*
Dan (confessional):
No one is sayin' much to me. What I'm hearin' I'm not likin'. 'They' want Robb gone. That is not cool. Robb, cool guy when he's not actin' douchey. Plus no one respects the guy's game. The less active he is, the bigger goat he is. Robb and me have been aligned since day 2, day 3? If nothin' changes and he's really in danger maybe I need to give up my immunity for him. It's a tough decision.
*Dan approaches Brenda and Spencer*
Dan:
Im hearin Robb is on the block. Should we be worried?
Brenda:
Great job Dan. Nooo don't. Robb is inactive and people just want him out.
Spencer:
But like, what's the vote though?
Brenda:
Robb. I'm hearing that too.
*We now see Natalie talking to Rob*
Natalie:
Hopefully tonight isn't as crazy lol do you have any ideas? I haven't heard anything of who is working together and last vote seemed kinda like a flop lol everyone just got on the same page. I've heard Robb as the name since he keeps getting a penalty. I'd personally rather see Todd or Brenda go but I don't want to go against the crowd!! Also I'm getting weird vibes from a lot of people in this game, I don't know who else to trust besides you!!! It's weird lol
Rob:
I heard Robb too! I feel like there are a lot of shady people. I will hopefully be on later to talk more about this. So glad you brought this up
Natalie:
Yeah we should discuss it. We should get an alliance of like five together and stick with it, because I'm just worried with no one talking to each other!!
*Rob nods and looks conflicted, we pan to tribal council where we see Cirie & Dan bunched up together in the spy box*
Tina:
Welcome to tribal council. We'll now bring in the jury. Aubry, voted out at last nights tribal.
*Aubry grins from the jury box*
Tina:
Dan and Cirie, will either of you be giving up immunity?
Cirie:
im going to keep immunity, Tina
Dan:
I will not be givin' up immunity
*Tina stands up and locks them in the spy box, they both look extremely uncomfortable*
Tina:
Kelley, what's the mood in the tribe?
Kelley:
It's actually very UTR1 right now. Not many people seem to be talking, which is a shame. I am doing fine though thanks for asking!
Tina:
Rob, is it possible to have trust in this game?
Rob:
It is very possible to have trust in this game, but ultimately you have to trust yourself.
*Crystal nods at this and almost snaps at her neck doing so*
Tina:
Brenda, do you think original Narrtu is screwed or will things continue to change?
Brenda:
No. I don't think people are after one tribe. It's anyone's game.
Tina:
Crystal, what do you think of the lack of immunity participation?
Crystal:
I COULD CARE LESS ABOUT IMMUNITY PARTICIPATION. DAN AND CIRIE DESERVED SAFETY CUZ THEY TRIED. I MAY DECIDE TO TRY IN THE FUTURE AND I BET OTHERS WILL TOO. THANKS FOR THE QUESTION. IF ANYONE HAS MORE OR QUESTIONS ME IN ANY FASHION I DONT MIND ANSWERING. IT IS WHAT IT IS AND I AM WHO I AM.
*A few chuckles are heard*
Tina:
Robb, any idol paranoia happening?
Robb:
*ignoring the question*
I know I'm going. This cast is full of a bunch of trash. If I stay I'll be surprised but honestly I could give two fucks about any of you. You're all useless sacks of shit
Brenda:
Useless, Robby, what have YOU do this game but take credit and all that. You did nothing. Like u said, you would be gone had we lost again and the swap never happened.
Crystal:
ROBB DONT EVEN START WITH US. WEVE ALL BEEN HERE AND COMPETING. THERES NO NEED TO BE RUDE. YOU ARE BECOMING RANDY IN MY EYES. I AM GLAD I VOTED FOR YOU DESPITE US TRYING TO MAKE AMENDS AFTER OUR ARGUMENT DAY 1. GO HOME, GOOD BYE.
Robb:
Fucking trailer trash skank!!! Don't you have a fucking sit-in you need to be participating in at a lunch counter somewhere.
*Robb then proceeds to go on a racist rant against Sandra, making everyone uncomfortable*
Tina:
Alright time to vote, Brenda, you're up.
*Brenda votes**Crystal writes down a name but we don't see it*
Crystal:
BYE BYE.
*Spencer votes**Todd votes**Kelley writes down a name and reveals her vote: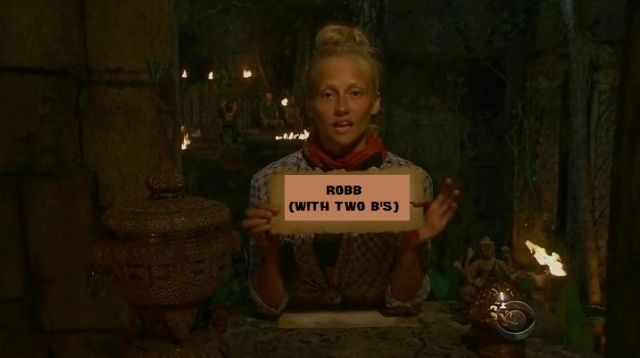 Kelley:
You smell bad, you have tattoos all over your body which are gross, and you poop too close to camp, we can smell that shit for days
*Robb votes**Rob votes**Natalie votes**Jaclyn shakes her head at Tina, implying she isn't moving*
Sandra:
Once the votes are read, the decision is final. The person voted out must leave the game immediately. I'll read the votes.
First vote..
Spoiler:

Robb
Spoiler:

Jaclyn - penalty
Spoiler:

Crystal
Spoiler:

1 vote each for Crystal, Jaclyn and Robb.
Spoiler:

Robb
Spoiler:

Robb
Spoiler:

Robb
Spoiler:

4 votes Robb, 1 vote Crystal and Jaclyn.
Eighth person voted out and the Second member of the Jury....
Spoiler:

Robb Zbacnik
Robb - reveal
Oh Robb. This person always brings a certain flair to their mystery game performances, mostly questionable statements and gameplay <3 We love him anyways, it's realitytvfreak2!
Game Chart - so far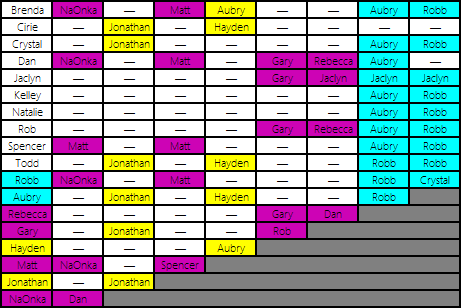 Edgic Chart - so far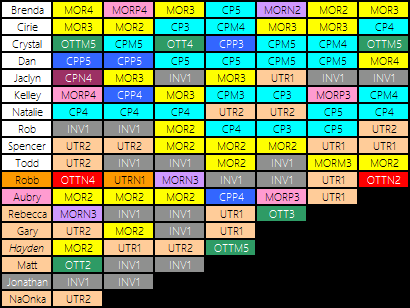 Admin




Join date

: 2016-03-18




---
Permissions in this forum:
You
cannot
reply to topics in this forum